Posted on
ISU students offer Charles City ideas on how to make homes more age-friendly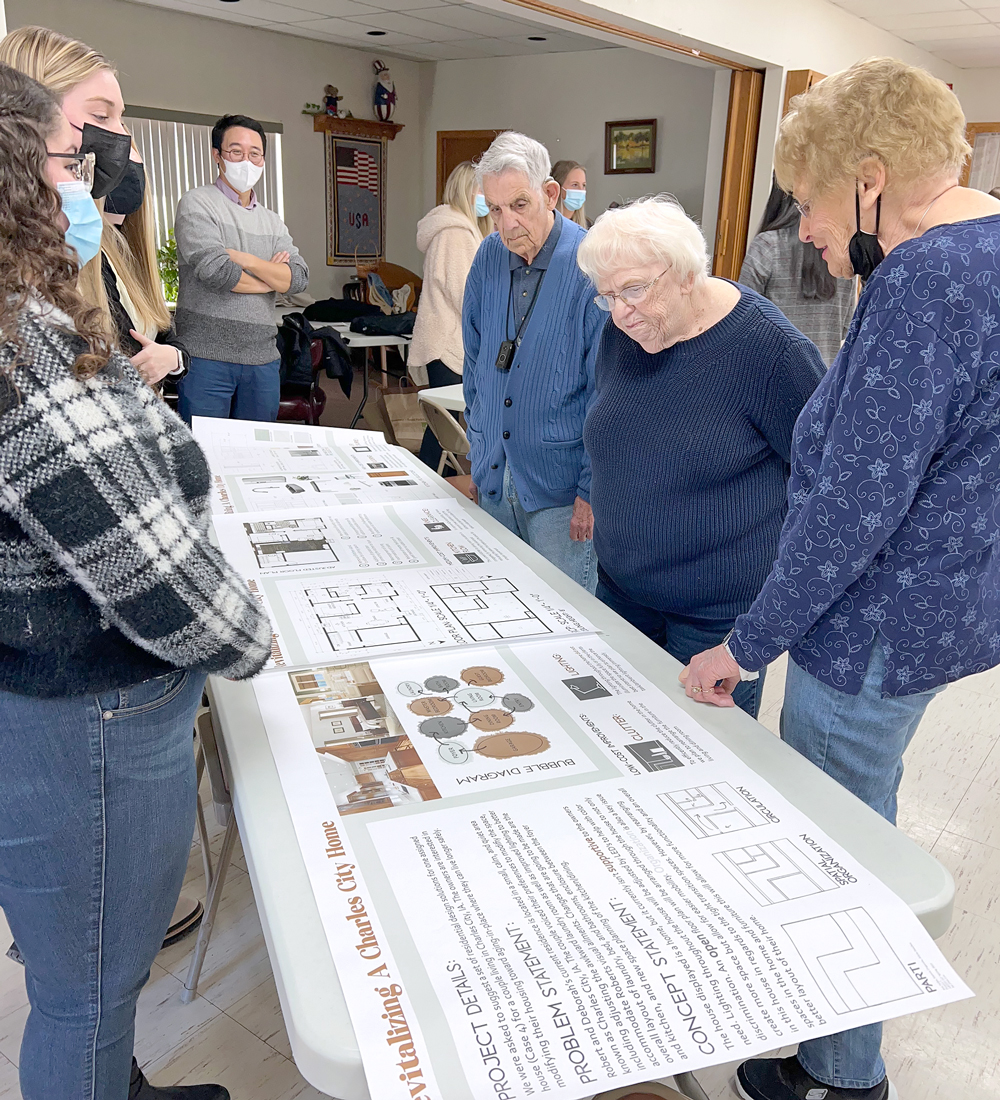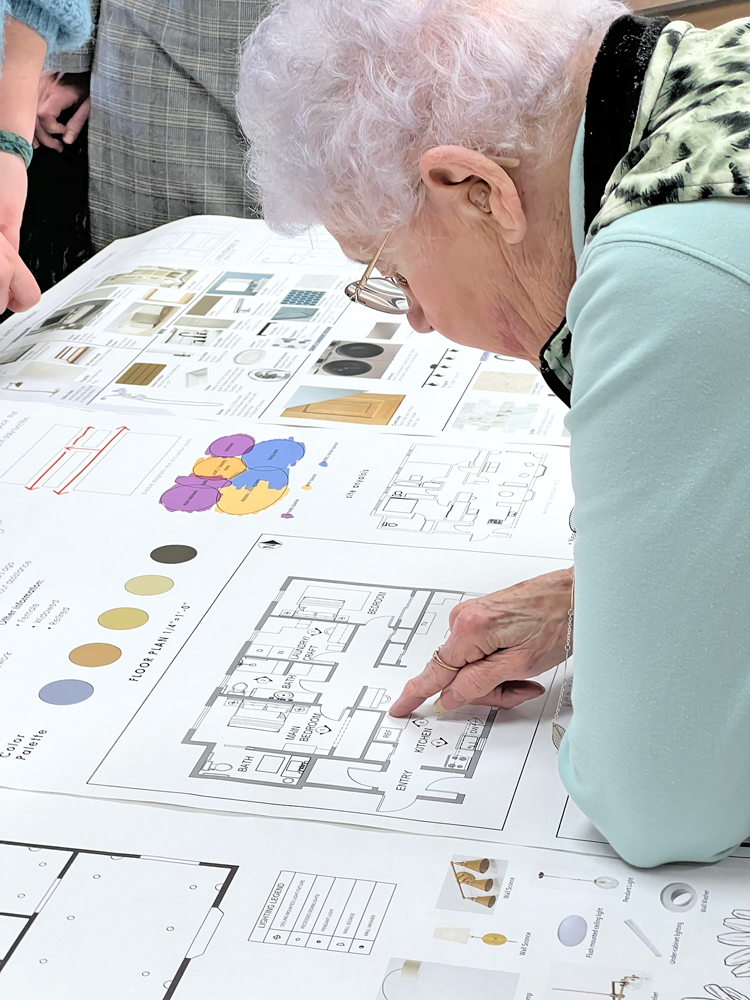 Noriene North looks at the plans presented by Iowa State University design students Tuesday at the Senior Center, regarding how four Charles City homes might be renovated to make them easier for the homeowners to "age in place." North's home was one of the four used in the ISU design class project. Press photo by Bob Steenson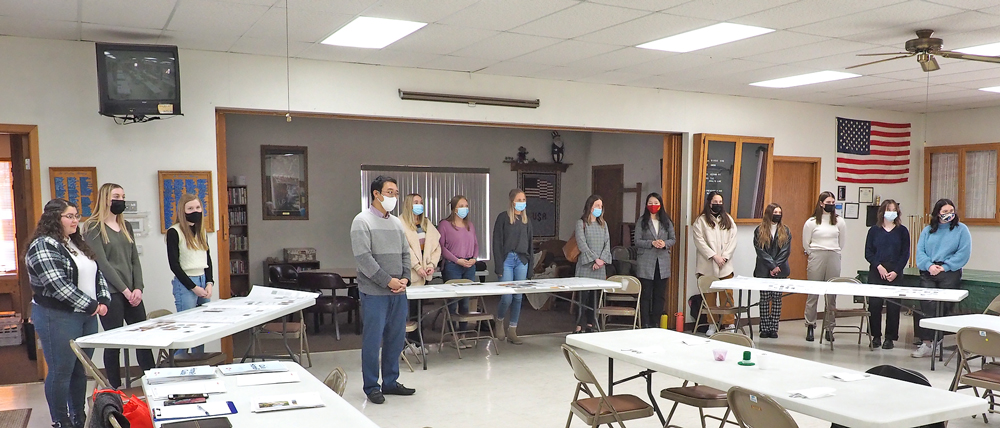 Thirteen Iowa State University Design Center students and Assistant Professor Daejin Kim get ready to talk about their project Tuesday morning at the Charles City Senior Center. About 60 design students looked at information on four Charles City houses and came up with plans to make the homes easier for the homeowners to "age in place." The four winning teams presented their plans. Press photo by Bob Steenson
A group of young Iowa State University Design Center students got to enter the world of folks many decades their senior as they took part in an "aging in place" revitalization project centered on several Charles City homes.
Although about 60 students initially took part in the ISU design class project, 13 students with four sets of winning plans made presentations at the Charles City Senior Center Tuesday morning, including to the owners of the homes their plans are based on.
The ISU project is one of several that are using Charles City as a model for ways that communities in general and homes in particular can be made more age-friendly, for people of all ages but especially for seniors.
AARP, the national organization for people over 50, several years ago selected Charles City as AARP's first Age-Friendly Community in rural Iowa, committing to work with the city on projects to increase walkability, access to health care and nutritious foods, affordable housing and other aspects of liveability for people of all ages.
The ISU Design Center project is being led by Assistant Professor Daejin Kim, and is focused on ways to allow older adults to live safely and comfortably at home.
Four homes were identified through the Charles City Senior Center, working with AARP Iowa, and floor plans as well as information about the people living in the homes were shared with the design students.
"We kind of got a brief intro to what their life was about and who they were and what changes they wanted made," design student Ava Yuska told the Press at the event Tuesday morning.
"We took that and since we actually didn't get to meet with them, we tried to figure out what would they like best and change that would beneficial," she said.
Aging in place – the ability to stay in your own home as you grow older – has significant implications for older adults, Assistant Professor Kim said. In addition to positive effects on people's health and lifestyle, it helps slow declining populations in rural communities.
Kim said most aging-in-place research has focused on urban and suburban areas, with very little emphasis on rural communities. He said he hopes this project can help shed light on an under-researched area.
"As people age, they experience many different kinds of problems: physical, psychological and social," Kim said. "This is our first project, but I believe it could make a huge impact on rural Iowa."
Brad Anderson, AARP Iowa state director, said in a press release about the Charles City project that "study after study comes to the same conclusion – older Iowans want to remain in their community and in their homes for as long as possible."
He said Age-Friendly communities of the future must have plans to help older Iowans age in place, and those plans should include home modifications.
Connie Eastman, associate state director of community outreach for AARP Iowa, introduced Kim and the design students and gave some background on the project to the several dozen people at the Senior Center Tuesday before lunch was served.
"We had some lovely volunteers right here in this room," Eastman said, noting the people whose homes are part of the project.
"We looked at their floor plans and looked at how they were functioning in their house, and these students took that information and they said, 'Here are some plans for how you can make your house more comfortable, make it safer, make it easier for people – whether you're 8 years old or 80 years old – to get around your house easily.'"
The Charles City homeowners participating in the project are Frank and Audrey Friedhoff, Gene Chambers, Noriene North and Al and Betty Manning. Al Manning passed away while the project was in progress.
Looking over the suggested changes for his home, Gene Chambers said he was interested in some of the modifications, but he wasn't sure how much "surgery" he wanted to do on his 1957 split-level home.
He also wanted his two daughters to weigh-in on the suggestions before making any changes.
Audrey Friedhoff liked some of the suggestions, saying, "They changed it around pretty nice."
"I need a bigger dining room, I know that," she said. "It's too small when I have people come."
John Peterson, a volunteer with AARP Iowa, said the organization had $10,000 available that it hopes to use to help with a remodeling project on one of the Charles City homes.
Eastman said a home would probably be selected based on the plans the students came up with.
Charles City City Administrator Steve Diers told the Press last week that the city has agreed to be the fiscal agent for an AARP "Home Fit"  modification project, and the city Department of Housing has offered to help oversee it.
Design student Karson DeGroote said Tuesday that the students weren't given any price range for their plans, but were told to make it not too expensive.
"We did try to keep it the lowest cost as possible while also doing as much as we could," DeGroote said about her team's approach. "We didn't tear down any walls or move any doors, or anything crazy like that. Everything mostly stayed put except for rearranging rooms and new furnishings and furniture."
Other ISU teams were more aggressive, suggesting significant floorplan changes for the homes they worked on.
Simone Bove, a college instructor and licensed architect from Rome, Italy, who is a visiting professor at ISU this semester and who helped with the project, said the exercise is very important because it opened up a new perspective for the students – "getting to know that interior design is not just about decoration and making homes look more beautiful, but a notion of comfort, which changes through life."
"I really think that they enjoyed this," Bove said about the students. "They have all learned a very important lesson from this class – that the client is essential and they have to understand as much as they can what are the client's needs."
Jim Davis said, "Rural housing issues are critically important and I'm pleased to see AARP working with students to find innovative solutions. These designs are a great first step to get us all thinking about how we can help Iowans stay in their homes."
Davis has become the point person for the AARP Age-Friendly Community program in Charles City, taking over from former Mayor Jim Erb, who started the collaboration with AARP but who died in November.
"I've got a lot to learn, stepping in for Jim," Davis said. "We're in the third year of a five-year plan. It's just a good thing for Charles City."
Charles City was also selected to work with Apple Computer for a project to implement the company's "SmartHome" technology to increase in-home livability for seniors, looking at installing in 13 homes.
City Administrator Diers said the Apple project is a little delayed as they work through the details.
"It's a a pilot project so they're kind of figuring things out as they go, but it looks like they're going to be doing most of the install work probably in April," Diers said.
"They're doing qualitative analysis and different things, and actually I think they've got 13 people set up to do this. Four of them, however, don't have high-speed internet. It sounds like they have access to it, they just don't have it," he said.
"They're trying to work through some of the smaller issues like that. It's moving forward, it's looking good, it's just going to take a little bit longer," Diers said.